The Site
Women always fancy wearing ballet flats as they are casual and also comfortable. Foot fetishists fancy wearing love ballet flats as they look amazing on their sexy feet and as a result are perfect for toe dangling and foot dipping. The website which is in focus is specialized in foot and shoe fetish. It goes by the name of Ballerine World. There are a handful of videos which deals with soft core fetish porn. As you visit the website you will find some gorgeous European models supporting ballet flat style shoes and with that they will be seen steaming up the action within. The Ballerine World collection as said above is only a hand full with just 27 photo galleries and nine videos in total. Also the materials are not dated. If you dig a bit on the web, you will come to know that the website is a new one and was incepted in the year 2011. But considering some of the other new websites, this website disappoints a bit, especially in terms of its new additions. They promise weekly updates but very rarely deliver.
When I visited the website for the first time, I noticed that the website hasn't been updated for many months if not years. However the pleasing thing about it is that it does showcase some awesome videos featuring some super-hot European models. These models are in casual attires and support ballet flats. Some of the scenes also display women wearing some different kind of shoe, like sandals. While I was checking out some of the contents I found that majority of the videos were stamped with the name of another website namely the Passione Piedi and I firmly believe that these videos offered here were mainly for that website. However irrespective of that there are full body shots and ample focus is given to the models feet shoes. In some of the scenes, some of the girls support a different pair of shoe that too in one single clip. The photos are of the different poses which focus on different poses of models and their ballet flat shoes.
These models rub their own toes, seductively moving their feet and displaying different shoe styles. The website does not have any sex or nudity and for that reason the website has not been able to attain the kind of popularity which some other websites have. The models in fact do not strip off their clothes during the seduction sessions. The only thing which does seem to come off are the shoes, giving a clear sight of their soles and toes. The quality of the videos is amazing. Most of them are in 1920×1080 pixels. The videos are crisp and play cleanly and smoothly. The pictures are also about 1500 pixels and are crisp and clear in their appearance. So to put it in simple words, if you are on the look-out for a foot fetish porn site, this is a good option to try out, but if you desire some sex and nudity to go with them, if would be wise to look for some other website.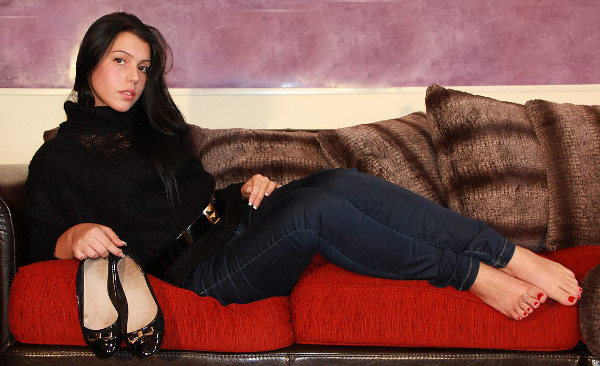 Site Features
The website comprises of a simple design and with all the important navigation options displayed atop the website homepage, accessing the website will be a breeze. Depending on the part of the website which you desire to check out, just click on the options present. The website offers an about us section which you can use to check out the theme of the website and also a preview section which gives you a peek into some of the videos which they have in their stock. However there are no sort tools and basically no information about the scenes or models. The membership options are easy and if you want to become one, you will have to click on the member option and enter the information which the website asks of you. Also select the subscription package which appeals to you and submit the request. The website will dispatch a notification which will state the status of your account set up. If the status is successful, then it means that you from that point on, you will be able to check out the contents which are present in the website. The videos are available for downloads and the pics are present for viewing in basic thumb nail galleries.
The Content
If there is one thing which you will love about the website it is their awesome collection of European women. They are awesome in their looks department and will definitely give you some to gaze at. Their figures are so desirable and even if they do not go nude, they will produce some magic in the videos. The website offers you a model index which you can use to find out the model which appeals to you. The videos are also quite good in terms of their clarity. They are shot in super HD cameras and play un-interrupted without any issues. These videos can be downloaded easily. The pictures are also as crisp and can also be downloaded all together in one zip file. The website's biggest disappointment is that it does not get regular updates. The additions though is supposed to take place weekly basis, it does not.
Quick Resume
I actually thought that they did a great job in sticking to the main theme which is ballet flat. But other than that there is nothing more to see. In fact you will be able to go through all the contents within an hour. One of the biggest flaws is definitely the lack of updates. But if you do dig foot fetish porn, then you will find some HD videos and a cost effective subscription package to cater to. So with this, it does kind of make sense to set up an account but I still feel that staying more than a month is a bit too much in this case.

Membership Price
| | | |
| --- | --- | --- |
| Trial Price | Monthly Price | Yearly Price |
| N/A | $19.99 | N/A |
Other Reviews
| | | | |
| --- | --- | --- | --- |
| | | | |
| Trial Access | N/A | N/A | N/A |
| 30 Day Access | $19.99 | $19.99 | $19.99 |
| 365 Day Access | N/A | N/A | N/A |
| | | | |