The Site
One of the porn niches that really turns us on and get our veins pumping is rough sex. You know, hardcore, angry sex with clothes-tearing? Yes, the exact kind that makes us feel and enjoy our dominance over the female gender. No offense to the ladies who are currently reading this right now, but we just cannot help feeling this way. It's in our very nature. It lifts up our ego and makes us feel good. If you are a man, however, and you appreciate porn sites that highlight masculine dominance, then you'll surely enjoy the porn site that we have for you today. It is called BrutalX, where you will get to watch "ladies ripped up and fucked" – according to the site's tagline. Moving on, let us start this review with a big wow and two thumbs up. Let us just say that we were pleasantly surprised upon landing on this site because we were expecting a bit of nasty things about it – coming from our past experiences in viewing hardcore rough sex porn sites and those that feature videos that are closely related to this niche. Admit it, some porn sites can just get a bit too much. But BrutalX absolutely didn't.
Their videos were hardcore yet tasteful. Not to mention that the image quality of their videos is superb as well. All of them are clear and crisp. And let us not get started on the ladies right now because we are going to talk about them later – but wow. Really, BrutalX, good job! Once we have found out the porn network that the porn site belonged to, though, we were not so surprised anymore. It belongs to the quality porn network Dirty Flix. This porn network is also the home of other impressive porn sites like Private Casting X (for those who enjoy watching ladies get tricked into going to castings only to find out that they're not going to be a star – they are going to get fucked), She is Nerdy (for those who fantasize fucking nerdy chicks), and Moms Passions (perfect if you love MILF porn), just to name a few. What we suggest is for you to take a look into all of the porn sites within their network yourself so you have an idea on the type of porn videos that they have. We can just assure you one thing, all of them are quality videos, and we will also tell you more about that later on in this review. If you are already interested in being part of this porn network, then allow us to give you some information about its membership plans. There are three main ones: a one-month membership option (which gives you an additional week for free), a three-month option, and a twelve-month option. If you just want to take a look at the porn site first, then a one-day trial membership is also available for you to avail for a minimum fee.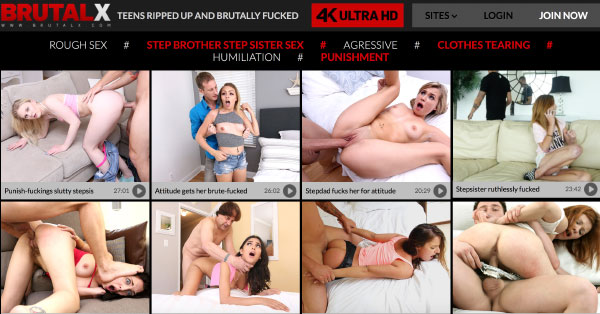 Site Features
We absolutely loved the website design of BrutalX. First, it is shown in full-width. It is classy and has a simple black theme. It doesn't have any other distractions or flashy banners. You can say that it's pretty straight to the point. Upon landing on the homepage, you will already see the different thumbnails of their latest videos. From the thumbnails themselves, you will be able to tell how high-quality their videos really are. Even their thumbnails look super clear. The thumbnails feature the most action-filled scene in the video. It is also very simple showing only the title and the video's length. And that's it. In total, you will be able to view eighty different thumbnails, of eighty different videos – and that's on the first page alone. And now, onto the site's features, we are already going to tell you the secret behind the image quality of the site. The reason why their videos are just plain impressive is because they are not just in full high definition (full HD is currently the best video quality that you'll get from other porn sites). The videos on BrutalX are available in the latest 4k ultra high definition which is of better quality than its full HD counterpart. But you don't have to worry about the streaming or downloading the videos. We understand that other sites can get slow and weird whenever you opt to watch videos in high definition, but the ultra fast servers of BrutalX ensures that the loading times are still going to be fast despite the video quality.
The Content
And let us now go back to talking about the girls in the porn site. As what we have mentioned above, we were really blown away by the beauties of the site. All of them are fit, their bodies are all well-proportioned (they look natural with no body parts too big or too flat if you get what we mean), and finally they have the faces of angels. Man, these girls are hot. Plus, we also enjoyed the fact that they did not feature a particular type or nationality – in this way we got more choices, from blondes to brunettes and other kinds of ladies! The videos are very steamy and hardcore too. We love how masculine the male porn models on the site are. They make male domination truly believable, even if the girls could get a little bit feisty. It will be too hard to put into words how awesome this site is, so we suggest that you just get on and visit the site to see for yourself.
Quick Resume
BrutalX is yet again another addition to our list of favorite porn sites. We also like the fact that they are leading in the industry by providing the technology of 4k ultra high definition to their members. Just this factor alone already sets them apart from other porn sites out there. We really believe that no one will regret signing up for this site – in fact, we think that it would even start a cycle of recurring membership because you would not be able to help yourself once they get you hooked.

Membership Price
| | | |
| --- | --- | --- |
| Trial Price | Monthly Price | Yearly Price |
| $1.95 | $49.95 | $119.95 |
Other Reviews
| | | | |
| --- | --- | --- | --- |
| | | | |
| Trial Access | $1.00 | $1.00 | $1.00 |
| 30 Day Access | $49.95 | $49.95 | $49.95 |
| 365 Day Access | $119.95 | $119.95 | $119.95 |
| | | | |