The Site
Hi bros, we're back once again with an entirely new porn site review just for you and I'm so excited for this one because it is going to be epic. Have you ever heard of the legend of the gloryhole? I surely got your attention right there, didn't I?
To those who are still unenlightened, gloryholes are magical holes where you can put your dick through and let it experience different wonders from the other side. You see, there are really beautiful and mythical creatures waiting there to suck and fuck whichever dick that gets inserted through that glorious hole. And oh, this is certainly not a myth. This is a true story, as true as the different authentic gloryholes distributed across the world!
Unfortunately, the gloryholes only appear to those deserving mortals who were lucky enough to have stumbled upon the well-kept secret of the locations of these holes. And let me tell you, finding one is no joke for there are even times when a gloryhole existed in one place, only to disappear a few minutes after your discovery. Such is the life of a gloryhole hunter, always hunting, following, and chasing after the gloryhole dream.
Lucky for us, though, we don't need to go through such a perilous journey anymore. We can already enjoy these glorious holes at home, in the comforts of our bed, with a laptop on our lap, and tissues at hand. As fleeting as an actual gloryhole might be, we have found a healthier (and more convenient) alternative. A porn site that features all authentic gloryhole porn videos. The porn site is aptly named the GloryHole, and just like the mythical object that it presents, this porn site is nothing short of being pure magic. In fact, it has already built its name in the industry as the best source of interracial porn videos. This is a niche that features white chicks worshipping big black dicks.
As if it couldn't get any better, the Gloryhole porn site also lives up to the specialty of the network so expect to see a lot of magical black cocks appearing from nowhere to be sucked and fucked by some of the most beautiful chicks on porn – all for our pure entertainment.
And just because Dogfart is one of the best networks around, they also offer all their other porn sites for FREE, if you sign up for just one site which is, in this case, Gloryhole. So, don't miss this opportunity and get your ass there to sign up for premium membership.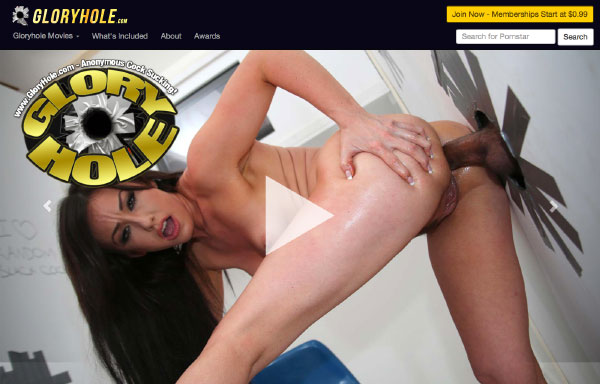 Site Features
The website design of Gloryhole is stylishly simple, in a way that it doesn't have any flashy graphics. In fact, the only style element that you're going to see on the page is the plain midnight blue colour. And after that, it's all high-quality thumbnails and trailers.
Speaking of trailers, once you have landed on the homepage, a full-screen trailer will welcome you. And what are you going to see there, you ask? Well, only one of the biggest black dicks on the planet, that's what, along with an expectant chick, who is already dripping wet for that juicy cock in front of her face.
The Content
Like what I have already mentioned above, Dogfart is a porn network that features the best interracial porn on the planet. So, of course, expect to see only white chicks here. It's not specified what type of white ladies, and if they are American or European. What's important, though, is that they're white.
What I have also noticed, and this is just based on my personal observations from the porn site, is that the ladies here on GloryHole look like the more adventurous types. They are not sweet and innocent that's for sure. In fact, some of them even look like they're the coolest and meanest chicks on porn!
As for the videos, they are available in full high-definition glory. You can see it by the crystal-clear quality of the porn videos on the site. If you are still in doubt, then you may see for yourself. The thumbnails on this porn site are big enough for you to see how clear their videos are. You don't even need a preview trailer, although the porn site has one, just in case you want to watch it.
Finally and, needless to say, ALL of the videos here show black cocks popping out of holes. There are different locations, though, like office cubicles, bathroom stalls, and more. Just keep in mind that you will never EVER see the owners of these cocks.
Even Dogfart claims that the owners of these dicks are strictly anonymous, else they would have already booked these guys for their other porn sites. This promise of anonymity makes the holes even more in-demand. After all, if you can just stick your dick there, enjoy, stay private, and not get caught – that's the dream, right?
Quick Resume
Aside from GloryHole, it is highly recommended for you to explore the other porn sites within the network as well. Like I said, Dogfart has twenty-three exclusively delicious interracial porn sites for our enjoyment, and by simply joining GloryHole, we would also gain access to them all. So, it would be really nice if you could take some time to take a look at the other sites included in this awesome "package" as well.
Some of the porn sites in this network that caught my attention are Watching My Mom Go Black (obviously, this is a MILF porn site), GloryHole Initiations (if you think this porn site is not enough to satisfy your gloryhole needs) and, finally, Interracial Blow Bang (perfect for those who enjoy blowjobs and banging porn videos). It is also worth mentioning that they have porn star specific sites as well. You will find certain stars like the sisters Katie and Spring Thomas, both lovers of black cocks, have their own porn sites.

Membership Price
| | | |
| --- | --- | --- |
| Trial Price | Monthly Price | Yearly Price |
|  N/A | $29.99 | $99.99 – $8.33/Mo. |
Other Reviews
| | | | |
| --- | --- | --- | --- |
| | | | |
| Trial Access |  N/A |  N/A |  N/A |
| 30 Day Access | $29.99 |  $29.99 |  N/A |
| 365 Day Access | $8.33/mo | | N/A |
| | | | |