The Site
What comes to mind when you think of Great Britain? Class? Culture? Well, the people there are very posh, educated and cultured so there is no surprise there. But how about horny? Dirty? Pretty weird to think of the land of our Queen Mother to be soiled with such thoughts, however, it does sound like a bit perverted, don't you think? Perverted as it is, we already know what you are thinking right now. And to answer the questions in your mind, yes, the porn site that we are going to review is a British one, and yes, it is still classy and posh. This porn site's name is Joy Bear. Allow us to tell you a bit about the site. Joy Bear is and erotic premium website created by Justin Santos way back in 2003. Justin won a reality TV show from the prestigious Playboy Company itself. He really is a talented director being a British film graduate, and to make it even better, a friend of his believed in him and supported his project – the creation of Joy Bear. And the rest, they say, is history.
Ever since Joy Bear has been creating award-winning erotic films designed to improve the quality of the entire porn industry. This website believes that in the idea of being "sex-positive" which is what we think, sets it miles apart in terms of philosophy and quality from other porn sites. They believe that women should be the one in control even if it means that they are going to give men the permission to lead the way every once in a while. After all, "happiness is a happy woman, always" – and this is the base of all the films that they produce. Another factor that we love about this porn site is the fact that they strive to make realistic films, which means that all of the scenes that they produce are very believable and very possible to happen in real life. In fact, according to Joy Bear, if it's not possible to happen in real life, then they are not going to make a film about it. They have even included those funny, sweet, and awkward moments that happen in real life sex to make the scenes more relatable, and this is the reason why their scenes are said to be more erotic and appealing to people, not just men, but women as well, from all walks of life, not just those who enjoy watching porn on a regular basis.
We believe that you are already interested in joining Joy Bear – and who wouldn't? Their idea is very promising, plus their movies do not degrade your being, it even uplifts. Hence, allow us to provide you the three membership options available: the one-month plan, the three-month plan, and the one-year plan. All of these membership choices provide you unlimited access to the site where you can view the films by scenes. Let us not forget to mention that the porn site along with all of its contents are mobile optimized as well so you will be able to view the videos not only through your desktop but on your smartphone and tablet as well.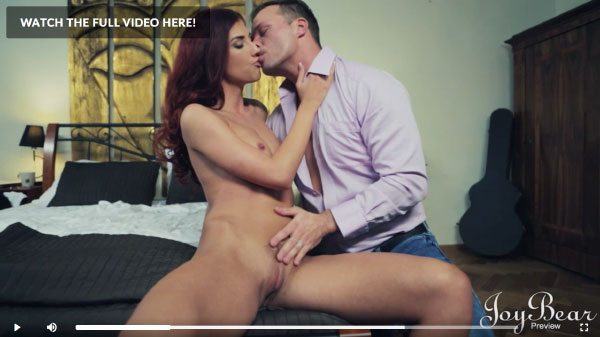 Site Features
Being true to their classy theme, the site is very polished and well made. Upon landing on the homepage, you will already feel the air of elegance that runs throughout the site. They have a minimal menu which leads you to four pages: the films, the performers, about the site, and the journal (which serves as the site's blog). Below the menu, you will see a big black and white banner, with an invitation to view their latest film. During the time that we are writing this porn review, the current one is Tease: The Power of Lingerie. Below the banner, you will see their latest journal posts. We encourage you to take a look at their posts as it will give you more insight about their films. Their blog posts are usually related to the theme of their films, and it also offers some behind-the-scenes information. And then, of course, another scroll down will finally show you the collection of their films.
The Content
There are times when we lead ourselves to believe that to be realistic, it would also mean that the ladies are not as beautiful that the ones who fill our dreams. However, in Joy Bear, even though the scenes are realistic, the women are still very beautiful. They actually live up to the standards and quality that the porn site promotes. The ladies here are truly some of the sexiest women you'll ever get to see in England, but aside from being horny they carry themselves with finesse and dignity. And this is what we really like about the women in their website, they can truly let themselves go without looking like cheap sluts. As for the videos, we think that you already have the idea of what types of films you are going to see on this porn site. After all, its founder is a British film graduate who won an award in erotic filmmaking from Playboy. But yes, the videos here are all masterfully done. The stories are great and very believable. The motivation that they have given their characters is the same motivation that drives us to fulfill our own sexual passions in real life. Finally, the image quality is very crisp, clear, and in full high definition.
Quick Resume
We understand that Joy Bear is not a porn site for everyone. It only targets a certain crowd of viewers. In fact, this is probably the first site that we would recommend that women should sign up for. In fact, this is a porn site that you can sign up for and maybe watch with your girlfriend or wife on date night because the movies that you are going to see are not your average porn videos. They have stories and real life characters.
Get your discount!
$17.90
instead of
$25.00

Membership Price
| | | |
| --- | --- | --- |
| Trial Price | Monthly Price | Yearly Price |
| N/A | $17.90 | $10.68/mo |
Other Reviews
| | | | |
| --- | --- | --- | --- |
| | | | |
| Trial Access | N/A | N/A | N/A |
| 30 Day Access | $25.00 | $25.00 | $25.00 |
| 365 Day Access | $10.90/mo | $10.90/mo | $10.90/mo |
| | | | |