The Site
Aside from beautiful places in Poland such as the Bieszczady Mountains that features soft green cliffs peppered with traditional churches, another good thing about the country are the busty Polish hotties. If you want to fulfill your longing for boobies, the kora-kryk official site will give you an invasion of busty Polish beauty that will bring the holy crap out of you. This hot Polish chick will hold her own in order to satisfy your cravings at night and she will literally dig her own pussy using her favorite sex toys. For dudes out there who wants to see her in action, the site is your one stop shop for masturbation and big busty actions.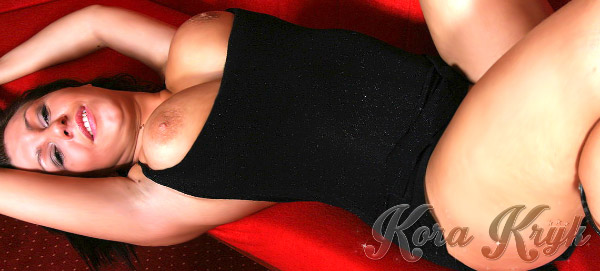 Site Features
For Kora's fans, her official site promised only one thing and that is all the actions featured available are all exclusive. You can't find such videos and images from the other porn sites but here. See her as she rub her vulva until she squirts off. I'm happy to report that the site does not feature any dudes that have mean black cocks. If you are tired of seeing such enormous thing that stabs the pussy of your favorite porn star, the site is a 100% free from dicks. In fact, only dildos and sex toys are enough to satisfy Kora's earthly pleasure. Yes, the porn dudes with large dicks make me feel puny sometimes. There isn't very much to expect prior to the site as she hasn't updated her latest videos. But according to my research, she is still active in the porn filming industry so I guess we have to wait a bit more. Anyhow, the site managed to add some few images and videos that fans will surely enjoy this saucy busty brunette bitch. As of today, there are only 27 exclusive videos that can be downloaded in average-quality using DivX files, good quality in WMV or MP4 and fast streaming when using a Flash format. Keep in mind that the videos are fine as long as you don't enlarge them in full screen. Once you decided to enlarge the videos, you will lose the quality which leaves you frustrated. The good news is, the site is fully responsive that allows you to watch them with your portable devices. In here, you'll find Kora's videos poses or getting herself nasty as she begins to rub her pussy until it gets wet. There are wild and hardcore masturbation scenes that are literally out of this world. For the images, there are 28 galleries available at the homepage. Each gallery contains 80 to 100 images that can be transferred to your computer by converting the images into zip files. By this way, you can view them over and over again. By all means, you can use these images for your desktop background. The lighting and quality of the images are great that are mostly taken from the videos. Both images and videos bring you an awesome treat to Kora together with her sex gals buddies. As for the design of the site, I could say that it is plain and simple. It is easy to roam around and the site allows you to explore more thanks to the navigation bar. All in all, It is clean, the color theme is helpful emphasizing the videos and the images. The site promises money back guarantee if it seems that they could not meet your pornographic pleasure expectation. But, as far as I'm concern, I believe that you don't have to because there are lots of perks included. As a member, you can get unlimited access to over than 24 HQ sites, daily updates, amazing customer support, and discreet billing. Moreover, as a member, you have the privilege to watch your favorite European porn stars at live streaming.
The Content
Kora Kryk is also known by many porn fans as Sandra Boobies. She started her adult filming career when she was about in her mid-20s. She was born in Zabrze Poland and was discovered by a certain adult filmmaker in a bar where she was working as a stripper. With her colorful career in the business, she was featured in many porn platforms such as Polish Busty, DDF Prod, and ScoreLand. What's so appealing about Kora's body features is her 34F cup size. Keep in mind that her boobs are natural without any breast implant. Her performances are topless, bush, masturbation, dildos, and girl to girl action. So, far, her adult film career does not involve one on one with a guy. Her videos will keep your eyes busy and your dick stimulated. There are lots of solo and masturbation action that you will surely love to watch. There is a particular scene that astonished me much and I can't get over with it. Why? It is because Kora manages to stick the champagne bottle into her pussy. I love drinking champagne and I love licking pussy so I guess you can't blame me for that. See Kora as she get herself wet at the gym. She prefers to take off her bra when lifting dumbbells. I just hope that the dudes can still concentrate with their exercises. After an intensive workout, she took her panty off and starts to jerk off. But if you want lesbo actions, you can't go wrong with Kora and Wendy scene. It is a total non-stop lesbian action as these two bitches make love on bed using a long hard dildo.
Quick Resume
For those of you, dudes who are planning to become an official member, her spectacular rack of solos and lesbos action can absolutely satisfy your cravings every night. If you are planning to download all the videos and images, I think that a month of membership is enough. But if you want to stay longer because of the perks and other privileges it is your call.

Membership Price
| | | |
| --- | --- | --- |
| Trial Price | Monthly Price | Yearly Price |
| N/A | $19.97 | $7.50/mo |
Other Reviews
| | | | |
| --- | --- | --- | --- |
| | | | |
| Trial Access | N/A | | |
| 30 Day Access | $19.97 | | |
| 365 Day Access | $7.50/mo | | |
| | | | |