The Site
WorldOfMen is a website started years ago by pornstar Collin O'Neal who sold the site when he left the porn industry. This is a review of the newly improved website so everything you need to know about this site you will learn it here. Last December, WorldOfMen has been improved and updated with a new design to provide members great internet experience. The site is now a megasite that allows members to stream as much as they want. You can stream videos from other websites part of the megasite. So, you can practically see all the movies from the six websites you can visit anytime. By the way, navigating the content from all the websites is not a problem as the site advanced search tool makes browsing less time consuming. In fact, you can search the megasite entire video collection about 1,704 without any problem and quickly. The videos are all available for streaming in MP4 format, but the older videos are viewable in a flash. As for the quality, you can expect an average to good quality videos even when you use the full-screen option. There are simply many things to like as the website got the important stuff improved and updated. You can have a ball watching the site thousands of videos where men suck each other's dick, fuck like there is no tomorrow and do all sorts of crazy sex action you would never have imagined. So, check out the site or continue reading to know more.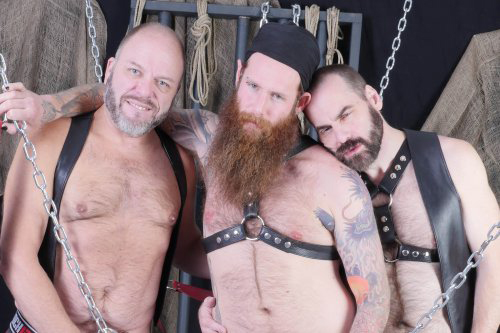 Site Features
WorldOfMen has a simple site design. The website designed to be functional and easy to navigate. That is why! You can easily browse the content without spending much time searching for the video you wish to see. The website has plenty of videos not including the content from the other websites that connected with this megasite. With the sidebar, you can go through each of the bonus websites content quickly and hassle-free. Yes! WorldOfMen offers bonus sites and you can access these websites without paying additional fees. Some of the websites you can visit are BarebackTwinks, BarebackThatHole, HairyandRaw, BreedMeRaw and more. These websites provide updates so you get more videos to choose from for the price of one membership. In this megasite, you will see different types of men in their early twenties to mid-twenties as each website has models that fit the site focus. For example, BrashBoys, SweetandRaw feature European men that just reached adulthood. The BreedMeRaw and BareBack both feature mature men in their mid-twenties to forties. But, WorldOfMen features all guys from twinks to mature men as the site promises to deliver range of videos and models. As for the site other features, you will love the action scenes filmed to provide pleasure and entertainment. The videos are absolute madness there are raw fucking, solo masturbation, and sex toys. And these videos offered at WorldOfMen are available for streaming in MP4 format, but the older version is still in flash format. Depending on the date the videos published on the site, expect to play the videos at 620×470 to 832×470. With regard to the quality, it is safe to say the video clarity is average to amateur content. The site also offers a full-screen option, but the quality varies depending on the size. By the way, you will notice that the videos shown on the homepage in the order of published to the megasite. Plus! Each video has a short description so you will know what to expect without peeking at the video. Once a member, you can also rate the videos and the tagging feature. The video section also includes the performer's name. The names are clickable for you to find out their updated videos. WorldOfMen practically offer everything that you would want to have a satisfying membership, including a free 7-day trial.
The Content
WorldOfMen offers awesome videos filmed to bring you complete satisfaction. The site collection of videos is a mixture of raw fucking and condom sex. There are also solo masturbation and men playing with dildo. In other words, the site practically got all the sex actions you can think or imagine as the videos are from different websites. As for the models, you can find men in their early twenties to forties. Aesthetically speaking, the guys are handsome, there are also men with boyish looks. You will also find masculine, hairy, athletic, slender, well-built bodies and guys that are total hunks. And more importantly, the men have big dicks that are happy to be inside tight assholes. The majority of the action scenes taken in a hotel or home settings, with men fucking in bedrooms, bathrooms, kitchens and living rooms. There are also guys having sex in bathhouses, playrooms, outdoors or gyms. This website got lots of BDSM and kinky scenes that you would enjoy watching including foursome, threesome, and dildo fucking. But, a lot of the action scene is men enjoying each other's dick, fucking and more. WorldOfMen are constantly adding new videos to give you more men to watch shoot loads or jerk off with another guy. This megasite is worth checking out more so when you want variety and pleasant internet experience.
Quick Resume
In summary, WorldOfMen is a good source of gay porn videos. The site has hundreds of high-quality video that you can stream in MP4 format. Membership comes with free access to more content from sites such as HairyandRaw, BareBack, BareBacksTwinks and more. This website got a good selection of videos that will keep you occupied and entertained for a long time. WorldOfMen is a site worth recommending as they offer not just awesome content but also good features. Check out the site and see for yourself if this megasite is worth joining or not before moving to the next gay site.

Membership Price
| | | |
| --- | --- | --- |
| Trial Price | Monthly Price | Yearly Price |
| N/A | $29.95 | N/A |
Other Reviews
| | | | |
| --- | --- | --- | --- |
| | | | |
| Trial Access | N/A | N/A | |
| 30 Day Access | $29.95 | $29.95 | |
| 365 Day Access | N/A | N/A | |
| | | | |