The Site
The GayCreeps is a porn portal which grants you access to a collection that features hardcore sex, and a popular fantasy: straight guys corrupted into doing hardcore gay sex. In case you are turned on by this fantasy, you will certainly enjoy browsing through the site's collection. Though every actor here is gay, they can play the role of the straight guy quite well. This site has been launched in 2009 and during the seven years of its operation, it has been growing in a nice pace.
Currently the number of videos exceeds 200, and though the schedule is not strictly kept, they try to add a new flick every week. There are sets of pictures for the scenes too, so you can access here almost all kind of media you need. The video quality is a strong point of the GayCreeps, because there are mostly (but not just) HD videos, so watching these guys doing hard things to each other will be a hot experience.
Naturally – or we could say fortunately – there are much more porn for you, so you don't have to worry about running out of content. The GayCreeps is a site of the GayRoom network. When you join this site, you become a member of the whole network, and while you are inside, you can browse 11 additional porn sites. This mainstream network focuses on fantasies and reality-porn. There are casting couch porn scenes, just as you can enjoy large cocks drilling tight asses.
These scenes are quite long – they usually last for 20-25 minutes – and they are all exclusive, so you would have a hard time finding them on other portals. And, apart from the actual content and the network sites, you can join live cam shows, and a personals site is included too.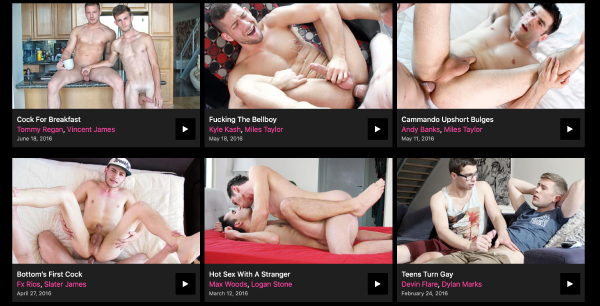 Site Features
In case you are an experienced porn viewer, and you don't hate straight porn, you will find the GayCreeps quite familiar. It's not a big wonder, because it's run by the AMA Multimedia, which is responsible for the rising straight network, the PornPros. The tour page and the inner section is the same of all sites of the network (and of the company), and they mostly share the same features.
One of these common features is the one which makes it possible for a simple visitor to enjoy five trailers (per day). The members' area is also a really simple one. There is a quick-jump menu on the top of the page, and a search engine to make browsing easier. A simple text-menu is available next to the logo: you can reach the scenes, the guys and the categories. Without the ads in the members' area, our impression could have been better.
As far as it could be detected, there is no download limit. You can save and view the videos as much as you want or can. A Flash-player is in use for the streaming access, while WMV and MP4 formats are available for downloading. Whether you download or stream the videos, you can enjoy them all in HD, where it's available.
The Content
The guys at the GayCreeps are all gorgeous, that much is quite true. The site has a nasty fantasy, which many porn sites also feature: claimed straight guys are getting broken in by their gay mate. Now, this fantasy is hot, and it's also quite popular, and with its awesome video quality and the hard sex, the GayCreeps stands out of the crowd. Though the site claims otherwise, the models here are not straight at all. There might be bi-sexual actors among them, but the majority are real gays, they are not faking.
As you might notice after watching a few flicks, the guys here are not amateurs – they are all professionals. However, some of these boys are just getting started in this industry, and while they are doing their hot porn, we like to watch them finding their 'voice' in this arena. Fortunately, the GayCreeps – and the whole GayRoom network – has several ethnic lads in the models' stable, so the videos here are really exciting and varied. You can find here your usual stars with big cock, big muscles and big appetite.
However, many twinks are appearing too, which makes these videos a bit more fitting the fantasy they should cover. This is fully professional porn, and the videos are shot with the highest standards kept in mind. Every scene features a couple, and they are either shot in PoV, or by a third guy. There are many gonzo moments too, so you get a close shot of the penetration and the cocks too. In fact, the videos here are all nicely made, and the sex in them is exciting.
There is one thing to keep in mind though: this is mainstream porn. You can't enjoy here bareback sex, these guys are not going that far, and if you are looking for kinky sex you can't find it here – only the fantasy itself is a bit harder. Most scenes feature vanilla hardcore sex: the guys suck each other, and there is usually a submissive lad – the one who plays he is straight – and the other one makes him like sex. Since the whole collection is made to fit a particular fantasy, the scenes here are all created to be passionate, and as we watched them, we felt satisfied.
We warmly recommend these scenes for those who like hardcore porn, but don't want to go for the darker themes and bareback sex. Satisfying, erotic and hard, these words describe the movies of the GayCreeps the best.
Quick Resume
Naturally, the porn might be mainstream, but the sex is exciting, and the video quality is really prime. Don't forget to check the included bonus sites, because more hot and exclusive porn videos are waiting for you, with no limits or restrictions in use.
Get your discount!
$16.95
instead of
$29.95

Membership Price
| | | |
| --- | --- | --- |
| Trial Price | Monthly Price | Yearly Price |
| $1.00 | $16.95 | $9.90/month |