Overview
GFRevenge is one of those sites that claim to have a large collection of user-submitted amateur porn, which has been uploaded in a vengeful rage after a break-up. That's the main promise of the site, and it's hard to depict that whether it's true or not, though it's our task to find out. As you sit in front of your computer, and take a look at the tour-site, you can see that there is indeed something wild going on, though if the thumbnails provide any sample of the actual video quality, you should brace yourself for some eye-appealing hardcore sex videos. There is a fluctuation in the video resolutions, but what's most important is the quality of the capturing and the camera handling. The overall quality is too good, and it seems to be professional work, with proper lightning and really good equipment.
You should have already noticed that there is the crown of the Reality Kings seen on the site and it's the icon of the page in the browser. Since this studio produces mostly reality porn, and it's paying for user-submitted content, it's safe to assume, that the videos making their way to the site are somewhat staged and they are captured by professionals or firm-handed amateurs. The girls are really gorgeous chicks, who are doing wild things for the camera, so you can watch masturbation and playing with sex toys, while some hardcore things are going on too. The chicks are amateurs, though as you will see, they are well-aware of what is happening, and what they should do. As for bonuses, you have some extra content to browse. If the over 300 videos of this site are not enough for you, you can watch a lot of 3rd party content, featuring professional hardcore sex, in high-definitions. The contents' exclusivity is somewhat questionable, because there may be some overlapping content between this and other Reality Kings sites, and there is one video that seems to be made by another studio.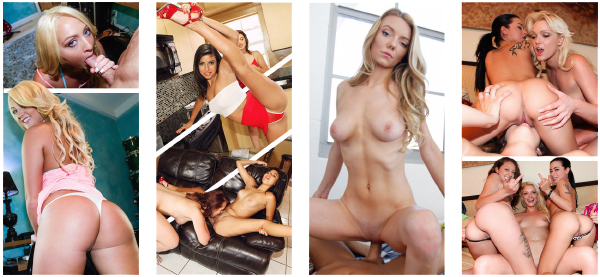 Design & Features
The layout of the site is friendly, and you can browse through it easily. The tour itself is consisting of only the thumbnails and gifs, sorted into three long rows. Inside you won't find search engine, or at least a keyword filtering option, you will have to browse through the videos page by page. The videos all have a description, though it's mostly promotional, you may find some info about what to expect inside. From the members' area you can take a look at the third party stuff and get a closer look on the promotional offers. All videos on the site are viewable with the embedded player, which used to access the Flash-video stream. Download option is not available, though the online access will prove satisfactory, since most scenes are under the 4 minute mark and they load very fast, however there are some longer scenes, but the online watching of those also won't pose any problems. One of the strongest features of the site is the pictures' database, where you can view the sets in a slideshow or save them to your computer in one file. The GFRevenge is optimized for smart phones and tablets; you can access all videos from these devices too.
Girls & Videos
This great website will show you only the freshest and the most beautiful girlfriends in the world! On GF Revenge you will see girls with slim bodies and with huge or perky melons. All these women have splendid faces and some round asses that will make you so excited. The models are real next door chicks, women that have no idea that they will become porn starlets! The best slut you can see on this website must be the blonde Joanna! That girl has the body of a super model and you will love her perfect tits and her sexy face. One time she is masturbating at her job and she decided to film the experience. She plays with a big dildo and when she has an orgasm the chick squirts all over the cam! In the middle of one of these orgasms a guy comes into the room and seeing her naked and so wet, he has a big hard-on. He gets his cock out of his pants and he starts fucking that juicy pussy. This must be one of the best homemade movies in the history and you must see the big facial at the end. Another cool chick from this site is the slim blonde with blue eyes, Emma. That woman is a true angel, she has blue eyes and her ass is so hot! She has on her cute butt a sexy tattoo with red lips and all the men look at that beauty. You can see her in a homemade clip in which she is at the pool. A guy sees her and they start kissing. This beauty doesn't have inhibitions and you must see her incredible sucking skills! All the movies from this site will bring you a lot of excitement, so be sure to check them all! There are regular updates on the site and these girls are always ready to show off their juicy breasts and pink pussies in some selfie shots on GFrevenge, so that you are never out of fun!
Conclusion
GFRevenge has some very good videos for you to watch. It seems that the updates are used to come every week, but the age of the site is hard to detect, the oldest scene is dated back to 2000, but it might just be an error, or there was a big downtime, because the content is too few for a site that 15 years old. Anyway, it's just quibbling, the most important thing is that it's alive and there are new videos added. Here is a hint: the registration on Dare Dorm includes access to the content of GFRevenge, so it may be more economical to register there, and you get much more content for the same price.
Get your discount!
$17.99
instead of
$29.99

Membership Price
| | | |
| --- | --- | --- |
| Trial Price | Monthly Price | Yearly Price |
|  $1.00 | $17.99 | $119.99 |
Other Reviews
| | | | |
| --- | --- | --- | --- |
| | | | |
| Trial Access | $1.00 |  $1.00 | $1.00 |
| 30 Day Access | $17.99 | $17.99 | $17.99 |
| 365 Day Access | $119.99 | $119.99 | $119.99 |
| | | | |